Lists are hot is a monthly column for all those that love lists. This time I want to share with you some of the queer TV characters and storylines I loved when I was younger.
These days lesBians seem to be on our TV screens everywhere (Grey's Anatomy, Coronation Street, Skins, Glee, Hand aufs Herz), but back in the day when I was a little (closeted) lesbian, lesBian storylines were few and far between. Needless to say, whenever anything remotely queer was shown on my TV, I always got really excited.
And with excited I mean my face would turn bride red, my heart would start thumping in my chest, and I would hope no one would interrupt my private viewing of the most amazing thing in the world. Ah, it feels like a life time ago.
So what kind of TV lesbianism did I get excited about? Pretty much anything and everything involving two women that was more than friendly. Sometimes even just lone female characters who "might be a little gay." Want examples? Ok here's a list of some of these queer TV characters and storylines:
1. Ellen Morgan on Ellen (Comedy, US, 1996-1998)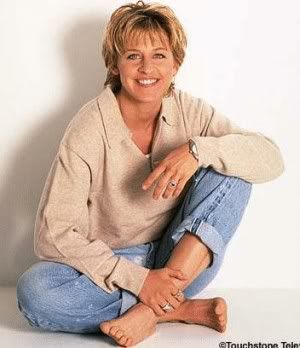 I always loved watching the US comedy series Ellen and I thought the character played by Ellen DeGeneres was great. She was so awesome and cool, and I wanted to be just like her! When around 1997 it became apparent that not only Ellen DeGeneres was a lesbian, but also the character she played, I was shocked and at the same time it totally made sense.
I remember watching each episode wishing something "gay" would happen, and at the same time hoping it would not, just in case my mom would walk into the living room and things would get embarrassing.
2. Zoe Marshall on Pacific Drive (Soap, Australia, 1996)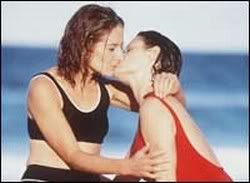 Pacific Drive was one of those bad daytime soaps that was shown on television in 1996 (or we probably watched in the year after in Europe). One of the characters was Zoe Marshall, a girl questioning her sexuality. This wasn't a main plotline, but during the season I did watch her get seduced by a woman, get confused by her feelings for women, and sleep with her husband Tim (who she married so he could stay in the country) just to make sure she wasn't straight.
I could relate so well to Zoe's struggle with her sexuality (although not so much the having sex with a guy part), and at the same time I thought she was really hot. I wonder if I would've thought that if she hadn't played gay.
3. Dr. Kerry Weaver on ER (Medical drama, US, 1995-2009)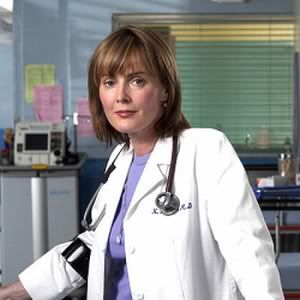 Years before Grey's Anatomy there was already another medical show that everyone seemed to watch and love: ER. When I still lived at home we use to watch that show together every Friday night. I always loved Dr. Kerry Weaver. She was very strict, and not always much fun, but she was fair and she did not care what everyone else thought. That was, until she realized she might be a lesbian.
That storyline totally took me by surprise, and I watched with a bright red face and a beating heart when Kerry wanted to be with the beautiful, hot woman so bad, but she just couldn't. She wasn't ready, it was all too much. Luckily, she got another chance with fire fighter Sandy Lopez (who of course had to die in a fire just as Kerry was about to become really happy for once). This show also featured a young Jorja Fox as lesbian Dr. Maggie Doyle for a while, but she never really held much interest to me.
4. Lesbianish episode of La Femme Nikita (Crime, US, 1998)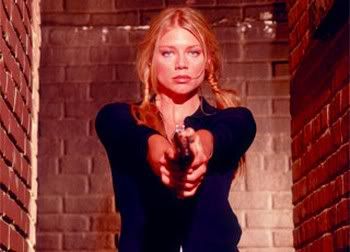 I loved La Femme Nikita and it was probably one of my favourite shows during the late nineties. Nikita was so cool and tough, but of course very much in love with creepy Michael. However, I remember feeling very excited when in one episode during Season 2, Nikita seduced a woman. This was probably done in order to win her trust and save the world, or something like that, but I really didn't care. It was so incredibly hot at the time.
5. Julia Salinger experiments on Party of Five (Drama, US, 1998)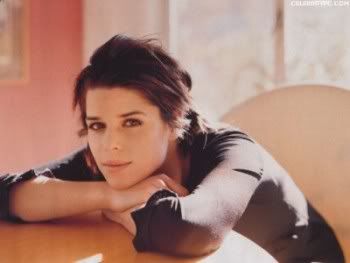 Back in the late nineties/early 2000s I had a huge crush on Neve Campbell. I watched her in just about everything she was in (Scream, Wildthings, boring ballet movies), but before she became a famous movie star she played Julia Salinger on Party of Five. I loved that show, I watched it for years, and I always thought her character was really cool.
She was straight of course, and had a series of cute boyfriends. However, in some of the later seasons when Julia goes to college, there are a few episodes where she experiments a little. Or actually I think there really wasn't that much action, but lots of speculation, and little lesbian me eagerly ate up up every little crumb they gave me.
6. Carol Willick on Friends (Comedy, US, 1994-2001)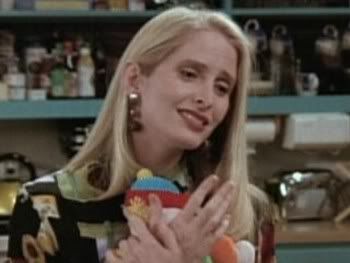 The character of Carol on Friends (Ross's ex wife) was one of those recurring characters that did not make me feel nervous or strange, but she just seems to make lesbianism look both cool and normal. I liked having her there on a TV show I loved. Even though it was very clear she was a lesbian, her being gay was not always the most important part about her character, which I appreciated. There were a lot of lesbian jokes though, but then again, it was a comedy show.
---
That concludes my list. I know it only has six entries, but trust me, back in the late nineties, these were pretty much all the lesBian characters/storylines that were around. They increased quite rapidly by the time we entered a new millennium, but back in the day we had to make do.
What do you think of my selection? What were some of your lesbian characters and storylines that made an impact on you when you were first coming out? Let me know in the comments.
This post was first published on eurOut.