Lists Are Hot is a monthly column for all those who love lists. This time I want to share with you 10 lesBian web series I think you should check out.
Ten years ago it was pretty hard to find lesBian content in anything but movies. These days, however, lesbians seem to be everywhere! To be fair, lesbian characters and storylines on television are still rather scarce, but luckily there's an entire internet universe out there that is filled with gay.
One of the greatest creations of the last few years has to be the web series. When they first came out I was so excited about them, I watched them all the time and pretty much any web series I could get my hands on. I am a little more picky these days, but I still like to check out any web series involving lesBians.
The good thing about web series is that they are relatively easy and cheap to make. However, because it's pretty much a hobby or side project for most people working on them, it can take a while for new episodes to show up.
Some of the lesbian web series I am about to list might be familiar to you, and some might be new discoveries. As there are not that many lesbian web series out there yet, this is not a top 10 of the best, but just 10 web series you should check out. They are in no particular order, but feel free to let me know which one you think is the best.
10. B.J. Fletcher: Private Eye (Canada)
B.J. Fletcher: Private Eye was created by Regan Latimer and revolves around B.J. Fletcher, a very clumsy, stubborn, unprofessional, yet very loveable PI and her sidekick, best friend George. Together they solve crimes the best way they can, and try to balance this with their love lives. As with any crime solving team that spends a lot of time together, soon enough they start to realize who they really want is each other.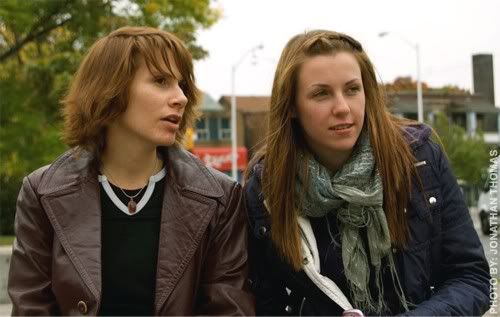 Watch the trailer of the show here.
I am a big fan of crime shows and good humour, and I am definitely enjoying B.J. Fletcher: Private Eye on both counts. So far there have been two seasons of the web series and it looks like there is much more to come. We'll let you know when there's more news about a release date for Season 3.
9. Anyone But Me (US)
Anyone But Me is the web series by Susan Miller (the L word, Thirtysomething) and Tina Cesa Ward about "A new generation seeking love and belonging in the post 9/11 age."
It tells the story of 16 year old Vivian who moves from the big city to the suburbs, leaving behind all that was familiar; her school, her friends and her girlfriend Aster. Being a teenager and figuring out who you are is hard enough, let alone having to do it while trying to fit into a completely new environment, yet at the same time holding on to those old connections.
8. Emma Stahl (Germany)
Upcoming German web series Emma Stahl is something you don't want to miss. The web series is produced by Sandra Uredat and is about a bad ass female special agent, who loves adventure and beautiful women. Or as the official press release summarizes:
"Emma Stahl is a special agent for the fictional European police unit EuForce. This elite team fights organized crime in Europe. When normal police action does not go anywhere, Emma Stahl is called. Her bosses tolerate her unorthodox methods grudgingly as long as they lead to success.
Emma Stahl is addicted to adventure and beautiful women. A sometimes fatal weakness."
Now doesn't that get you excited? I am a huge fan of crime shows, films, books, you name it, as long as it has strong, interesting, hot leading women. Therefore, I cannot wait for this web series to start airing.
7. Chica Busca Chica (Spain)
Germany is not the only European country with lesbian web series, Spain even has more than one. Unfortunately, none of them have made any new episodes since 2007. However, just because they are a little dated, doesn't mean they are not worth checking out.
Chica Busca Chica is a 16 episodes series about the lives and loves of a group of lesbians that can best be described as a Spanish version of the L word, and I mean that in the best possible way. This web series is really well done and you would not be surprised if it would turn up on your television.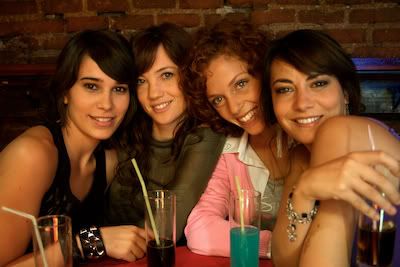 Last year, the maker of the show was looking for funding to make a second season, but unfortunately not enough money has been raised so far. The web series is available on DVD though, but I think only for those in the United States.
6. Plan V (Argentina)
Another great web series in the Spanish language is Plan V, which comes from Argentina.
This 11 episode web series revolves around Ana, a 30 year old lesbian and her interesting love life. The main plotline, that is explored throughout the episodes, is that of Anna meeting a girl named Laura on the subway, who she falls madly in love with. Only it turns out Laura just happens to be dating Ana's brother.
Plan V is actually quite a fun watch, despite the plotline. Interesting fact is that the actresses who play Laura and Ana are a couple in real life, and the reason they participated in the show is to increase visibility for Argentinian lesbians.
5. Out with Dad (Canada)
Another cool lesbian web series from Canada is Out with Dad, this web series is about a young girl who lives with her single father and is coming out of the closet. The series is written, directed and edited by Jason Leaver and so far 8 episodes are available online.
Like most series, they would love to come back for a second season, but are not sure yet whether they will have the time and/or money.
What I like about this web series, is not only the original outlook, but also that it is just really well made.
4. The Real girl's guide to everything else (US)
The real girl's guide to everything else was a nice surprise. I didn't know this one before writing this column and I didn't think I would like it. But I was wrong, it is actually pretty good.
So far there's a 6 episode first season (created by Carmen Elena Mitchell) about a Lebanese lesbian and political journalist who is trying to write a book about the Afghan women's struggle for civil rights. However, she needs to write a real Cosmo kind of book for girls to make some money, and thus she goes to find out what this straight girl world is all about.
3. Girl/Girl scene (US)
Girl/Girl scene is a web series that came out this year, that follows the lives of four "unapologetically queer women" in Middle America. This doesn't mean the lesBians in this web series live average lives, as already in the pilot we are thrown in the middle of an Indie movie set. Read Garance's more detailed account of the pilot.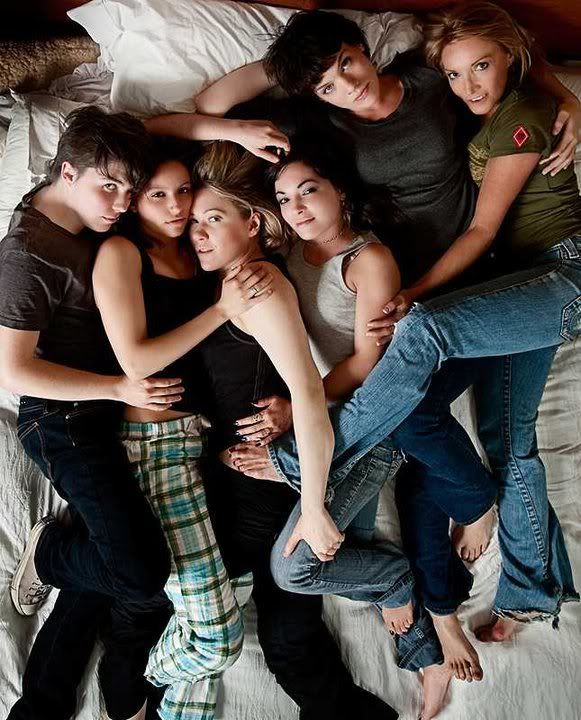 With only two episodes finished so far (they are working on more episodes as we speak), it is hard to get a good idea of the series, but I watched the first episode and that wasn't too bad. I didn't think it was great, but it has promise, so I am looking forward to more of their episodes.
You can watch the episodes for yourself here.
2. Heet Gras (the Netherlands)
There's a great new Dutch series entitled Heet Gras (Hot grass), which tells the story of two teenage girls on the same soccer team who end up falling in love with each other.
So far, only the pilot has seen the light of day, but this definitely makes me want to wait for more. Check out Anna's recap of the episode. The makers are hoping to be picked up by a TV station, so that the entire series can be made. Thus, technically this isn't really a web series as such, but they are planning to put the pilot online, which would make it a web series, I guess.
1. Seeking Simone (Canada)
Online dating is something many of us have experience with. You might not have met the love of your life that way (or maybe you have?), but it has probably made you some fun and embarrassing experiences richer. If you want to relive all the fun and horrors of online dating, check out Seeking Simone created by Renée Olbert and Rosemary Rowe.
Their tagline is "Online dating has never been so gay" and I couldn't agree more. It's such fun to watch Simone go through one bad date after the other. Five episodes is nowhere near enough, so I am happy to tell you they are currently working on getting more episodes done.
Renee Olbert (who plays Simone) also recently made an It gets better video, which you can watch here.
So what do you think of this list? What are your favourite web series and which don't you like at all? Are any of the lesbian web series you watch missing? Let us know in the comments.
This post was first published on eurOut.