This month Lists are hot–our column for those who love lists–is about sports. As regular readers know, I know very little about sports. In fact, I hardly watch or play sports (does the Wii count?).
However, I do like looking at fit women, so the sports world is a good place to look. Besides being hotties, athletes tend to be rather determined and it takes some guts to compete at such a high level. In addition, deciding to come out in a rather closeted environment speaks of character as well.
I've selected for you 10 European out sports women who I think deserve your attention. In order to not make it all about handball or soccer, I selected only one woman per sport. This didn't make my choices any easier, but at least it makes for a more diverse selection.
10. Vibeke Skofterud – cross country skier (Norway)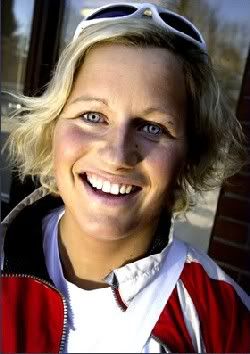 My first pick is one of two Norwegian ladies who's made the list, cross country skier Vibeke Skofterud. Skofterud has been skiing professionally for a number of years now, and has taken part in every kind of national and international competition, including the Winter Olympics. Recently, she qualified to take part in the upcoming Winter Olympics as well.
9. Steffi Nerius – javelin thrower (Germany)
Speaking of the Olympics, the second sports woman on this list is no stranger to the event either. German javelin thrower Steffi Nerius took part and won in the Olympics four times, as well as many other World Championships. Her latest victory being first place in the World Championship of 2009 which took place in Berlin.
8. Carole Thate – field hockey player (the Netherlands)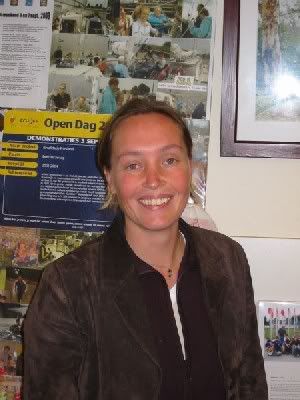 Field hockey is one of those sports that many lesbians seem to like a lot. I am not sure why that is, does it have anything to do with the cute little skirts that they wear? Anyway, one of the most well known lesbian hockey players is probably Carole Thate, who played an impressive 138 international matches for the Netherlands before retiring in the early 2000's. 
7. Michele Aboro – boxer (UK)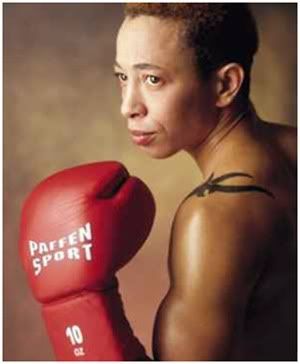 British boxer Michele Aboro has quite an impressive resume, including being one of the few boxers who's played 21 championship matches and has never been defeated. Although she's never technically retired, she stopped playing a few years ago when she ran out of boxers who were willing to play against her. If you want to find out more about her and get an inside into women's boxing, check out the great documentary A Knock Out.
6. Judith Arndt – cyclist (Germany)
A sports woman who is retired, is German cyclist Judith Arndt. Arndt had a very successful cycling career from the mid nineties until a few years ago, which included taking part in several World cups, the Olympics, as well as the World road race championship. Since 1996 she's been in a relationship with fellow cyclist Petra Rossner.
5. Imke Duplitzer – fencer (Germany)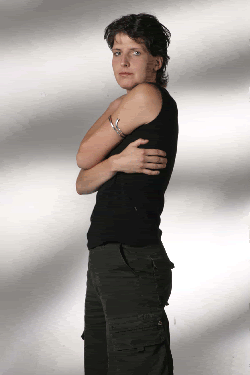 A sport that's always fascinated me is fencing, although I am not quite sure why. Even with this sport we can find some out ladies. The woman I want to focus on is German fencer Imke Duplitzer, who's won quite a number of championships over the years, including the Olympics, in which she took part an impressive four times.
4. Irene Wüst – ice skater (the Netherlands)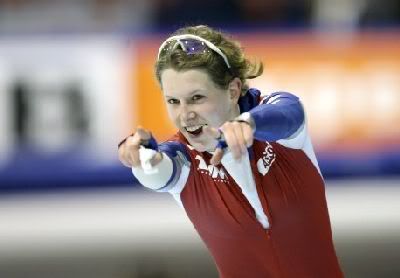 Dutch ice skater Irene Wüst only recently came out. She did so in quite a low key matter, by mentioning to a Dutch magazine she had a girlfriend and was very happy. Wüst is quite a successful ice skater, winning prices all over. She also qualified to take part in the upcoming Winter Olympics for the 1500 meters.
3. Gro Hammerseng – handball player (Norway)
A list of European out sports women wouldn't be complete without the most well-known lesbian handball player around, Gro Hammerseng. The Norwegian athlete has been in the (lesBian) news for years now, both for her handball achievements, as well as her relationship with fellow teammate Katja Nyberg.
After years of playing successfully for both local and national handball teams, last year saw Hammerseng recovering from injuries (her knees in particular) and taking it (relatively) easy. She turned down playing at the Handball World cup in China to be able to be fit enough again to play for her own team FC Midtjylland.
2. Jessica Landström – soccer player (Sweden)
Besides handball, the one other sport that seems to attract a lot of lesbians is soccer. The reason we know of out players in many different countries probably has more to do with the prevalence of lesbians in that sport than with tolerance. One of those out soccer players is Swedish national team player Jessica Landström.
At 25, Landström is on her way to become a very successful soccer player. After winning several awards and playing important matches, she could be seen playing for Sweden during the Women's Soccer Euro 2009 last summer. Recently, Landström traded in her Swedish team to play alongside other out player (and hottie) Natasha Kai for the New Jersey soccer team Sky Blue FC.
1. Amelie Mauresmo – tennis player (France)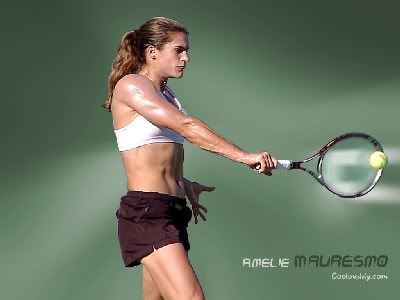 I'm sure no one is surprised to find out I put French tennis hottie Amelie Mauresmo at the top of the list. She might recently have announced her retirement, she still is the number one tennis player in my book. In fact, she's the only reason I watched any of this summer's Wimbledon at all. I have talked about how much I like Mauresmo ever since my first We Are Everywhere column where I noticed her pretty orange outfit.
And what's not to like? Even if you are unmoved by her hotness, you can't deny she's one hell of a tennis player, as well as a lovely woman. As far as representing us in the tennis world, I don't know anyone else who'd do a better job than Mauresmo did. Although I'd love for some more tennis ladies to step out of the closet and give it a try.
So what do you think? Do you agree with the sports women I selected? Are there important European out sports women missing from the list? Let us know in the comments. Also, please let me know if I made any mistakes regarding the sports info and feel free to leave suggestions for future Lists are Hot columns.
Read previous columns here.
This post was first published on eurout.