Lists are hot is a monthly column for all those who think lists are hot. Every month the focus is on a different queer related list.
We all spend a lot of time complaining about the lack of lesbian or bisexual storylines in movies. Even with those movies that do have clear queer plotlines, we still cannot help but mention how bad some of these movies are.
Granted, there are a lot of bad lesbian movies out there. In fact, I almost considered writing a Lists are hot column about the worst lesBian movies ever made. But then I thought to myself, why be so negative?
Therefore, this month's column is all about some of the best European lesBian movies. This is by no means an exhaustive or an objective list, but just a selection of five really good queer movies that I think you should check out. I even listed them in order for you. Enjoy!
5. Fremde Haut/Unveiled (Germany, 2005)
Fremde Haut
(Unveiled) is the 2005 movie by Angelina Maccarone about an Iranian woman named Fariba who has to flee her country to avoid prosecution.
Fariba tries to seek asylum in Germany, but she is denied residency. To avoid being send back to Iran and risk being killed for being a lesbian, she takes on the identity of an Iranian man from the refugee camp who has committed suicide.
Now Fariba finds herself living as a man in a small town in Germany. She knows the only way she will be able to stay in the country long term is if she can arrange for some fake identity papers. Fake papers cost a lot of money and therefore she finds herself a job in a cabbage factory.
It is here where she meets Anne, a beautiful blonde German woman who catches her eye from day one. They get on famously and slowly fall for each other. Of course, it is only a matter of time until Anne will find out Fariba's true identity.
Fremde Haut/Unveiled trailer
Fremde Haut
is about the harsh reality of life as a queer Iranian, as well as the hard life of asylum seekers in general. Yet at the same time, it is also a love story. It makes you think, about life and about how we as a society decide to treat other people. Bust most of all, it makes you realize that love is love no matter what form it takes.
You can read our full review of the movie
here
.
4. Coup de Foudre/Entre Nous (France, 1983)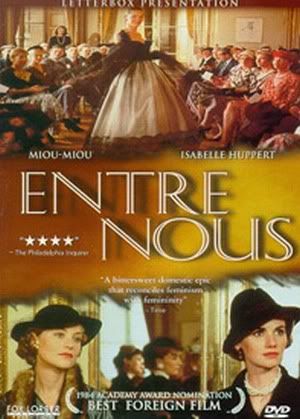 This next pick is a favourite of our political editor
Maxime
.
Coup de foudre
(Entre Nous) is the 1983 French movie set in occupied France during World War II.
It tells the story of two women, Lena (played by Isabella Huppert) a Jewish refugee who marries a soldier to escape deportation, and Madeleine (played by Miou-Miou), an art student who first loses a husband, then gets pregnant by another man who she marries.
After the war, both women start their families and all seems well, until their paths cross at their children's school. Lena and Madeleine hit it off right away and form a bond so much stronger than they have ever felt with their husbands.
Can their feelings for one another co-exist alongside their family lives or will they eventually have to choose between convention and following their hearts?
Entre Nous trailer
The story of this film is based on the life of the director, Diane Kurys. This is not a light or happy movie, but its strength lies in how it depicts, painfully and yet in a tender way, the struggle of a woman growing up in the after-war years in France coming to terms with her sexuality.
3. Auf der anderen Seite/the Edge of heaven (Germany, 2007 )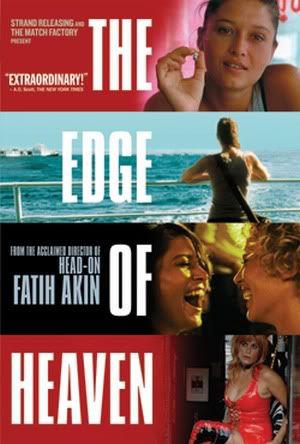 Auf der anderen Seite
(the Edge of heaven) is a 2007 German movie by Faith Akin about the differences between everyday life in Germany and Turkey.
It tells the story of Nejat who after his father dies, goes to Turkey to search for Ayten, the daughter of his father's prostitute girlfriend. What he doesn't know is that Ayten is a political activist who has already left Turkey and is currently in Germany.
In Germany Ayten meets Lotte, a lovely German do-gooder, who after discovering Ayten has no money or a place to stay, offers her to move in with her and her mother. Lotte's mother isn't too pleased by this, and I cannot really blame her.
Quickly a strong bond forms between Lotte and Ayten and the two of them embark on a relationship. Then Ayten is arrested and deported back to Turkey where she ends up in prison. Lotte decides to follow her to Turkey and try to get her released.
Auf der anderen Seite trailer
This is a really good quality movie that just happens to have a lesbian plotline. When I went to see this film at the cinema in Germany, I did not even know about it, and it was a very pleasant surprise. An added bonus if you will, as
Auf der anderen Seite
is a great and interesting movie even without the lesbian storyline. It's not a light movie and it might make you want to shout at your screen a few times, but I promise it will not leave you indifferent.
2. Imagine me and you (UK, 2007)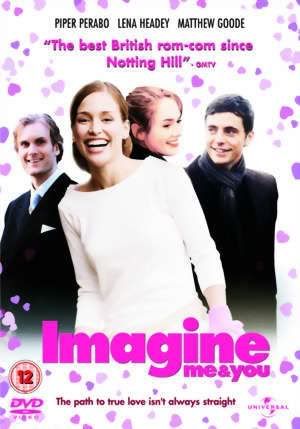 Normally I am not a big fan of romantic comedies, unless they are really well done and/or they have original storylines. British film
Imagine me and you
from 2005 is one of those movies.
It tells the story of Rachel (played by Piper Perabo) who is about to marry her long term boyfriend Heck, whom she has always thought of as the love of her life. That's when she meets Luce (played by the lovely Lena Heady) and everything changes.
Imagine me and you trailer
Rachel and Luce immediately hit it off and become really good friends. Soon it becomes clear that their feelings for one another go much deeper than mere friendship. Rachel starts to question her sexuality and soon she will have to make some tough choices between her familiar life with her husband and a chance of happiness with Luce.
What I love about this film, besides that it's just a really good romantic comedy, is that just like with
Auf der anderen Seite
, this movie has a very prominent lesbian storyline, yet the storyline is treated as part of the movie and it's not the entire movie.
Moreover, I like that the subject of being gay isn't treated as something awful or problematic. Also, it has Lena Heady making about with a woman. What more could you ask for?
1. Fucking Amal/Show me love (Sweden, 1998)
My favourite European lesbian movie, without a doubt, is
Fucking Amal
(Show me love).
Fucking Amal
is a Swedish film from 1998 about two seemingly different teenage girls who go to the same high school in a little town called Amal and end up falling in love with each other.
Agnes is a shy girl with not many friends and a huge crush on Elin the most popular girl in school. Elin gets dared into kissing Agnes, then runs off laughing, leaving Agnes both humiliated and heartbroken.
In fact, in true dramatic lesbian teen fashion she decides things are so bad that she is going to kill herself. She is all set with a set of razors in her hand and depressing music playing in the background, when Elin shows up again to apologize for kissing her.
Soon the girls realize that they quite like each other, but before they are ready to openly admit this to each other, themselves, and to the world, they have to overcome a few obstacles, including boys, family members and the nightmare that is called high school.
Don't let the bad American trailer put you off
Fucking Amal
is not just a love story, even though watching these girls figuring out they like each other is one of the cutest things I have ever seen. It's a movie about finding out you are queer in high school, or perhaps it's just a movie about what it's like to be in high school: trying to fit in, trying to figure out who you are, and of course there is lots of self-created drama.
The strong point of this movie, compared to many other movies about teenage lesbians, is that it is not filled with depressing messages about how hard it is to be gay. Most of the parents as well as the kids at school do not seem to have a huge problem with homosexuality.
It makes for a nice change that in this movie the lesbian teenagers do not throw themselves from rooftops, murder their parents or get send to gay rehabilitation camps.
Read our full review of the movie
here
.
Do you agree with this movie selection or would you have picked totally different movies? Let me know about some of your favourite European lesBian movies in the comments.
Read previous columns here.
This article was first published on eurOut.