Lesbian and bisexual characters on television still seem to be a rarity and the ones we do have tend to
be killed off
sooner or later. Luckily these days we are no longer depended on our televisions for some lesbian entertainment.
There is a whole world of utopian lesBian goodness available for us on the internet. You could take that in lots of different ways, but I was talking about this great new development called web series.
Even though the concept isn't exactly new and web series have been around for a while, it is only in the last few years that they have become really popular. Part of the increase in popularity has to do with the improved technology, which makes it relatively easy and inexpensive to create your own web series.
This can be especially appealing if you want to tell stories that might not necessarily get picked up by television networks, like those that prominently feature lesBian characters and storylines.

I want to introduce you to three of my favourite lesBian web series that I enjoy watching very much and I hope you will too.

Anyone But Me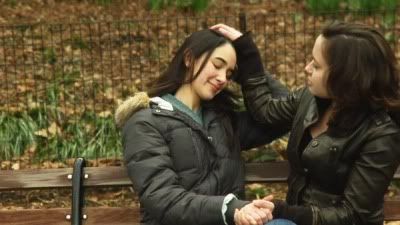 Anyone But Me still: Vivian and Aster
Anyone But Me is the web series by Susan Miller (the L word, Thirtysomething) and Tina Cesa Ward about "a new generation seeking love and belonging in the post 9/11 age."

It tells the story of 16 year old Vivian who moves from the big city to the suburbs, leaving behind all that was familiar; her school, her friends and her girlfriend Aster. Being a teenager and figuring out who you are is hard enough, let alone having to do it while trying to fit into a completely new environment, yet at the same time holding on to those old connections.

Anyone But Me trailer
Vivian and Aster are the cutest lesbian couple ever. I love watching them be all sweet together and I love them even more when they struggle to make their relationship work. There is something about this portrayal of first love that is so familiar and recognisable; it sometimes makes it painful to watch because it reminds you so much of what it was like when you were first coming out.

I have always enjoyed teen shows, but these days I mostly catch them for the cute lesbian couples. What I like about Anyone But Me is that it is just a really good web series, where all the characters are very likeable and you are rooting for them just as much as for the lesbians. You can catch up on the entire first season here.

B.J. Fletcher: Private Eye

B.J. Fletcher: Private Eye still: Fletch and George

I loved B.J. Fletcher: Private Eye from the minute I saw it. To be more precise, it happened at 0:46 minutes into the first episode when during the intro I watched Fletch get stuck in a tree. OMG, could anyone be more clumsy and clueless?!

This web series created by Regan Latimer revolves around B.J. Fletcher, a very clumsy, stubborn, unprofessional, yet very loveable PI and her sidekick, best friend George. Together they solve crimes the best way they can, and try to balance this with their love lives.

As with any crime solving team that spends a lot of time together, soon enough they start to realize who they really want is each other.

B.J. Fletcher: Private Eye trailer Season 2
I am a big fan of crime shows and good humour, and I am definitely enjoying B.J. Fletcher: Private Eye on both counts. So far there have been two seasons of the web series and it looks like there is much more to come.

As we reported earlier this week, B.J. Fletcher: Private Eye got themselves a development deal, meaning you will soon be able to see this great show on television. Well, only if you live in Canada I guess. This is great news and just goes to show that there is a market for quality shows about lesbian private investigators.

Seeking Simone

Seeking Simone still: Simone
Online dating is something many of us have experience with. You might not have met the love of your life that way (or maybe you have?), but it has probably made you some fun and embarrassing experiences richer. Now there's a new web series all about the fun and horrors of online dating: Seeking Simone created by Renée Olbert and Rosemary Rowe.

Their tagline is "Online dating has never been so gay" and I couldn't agree more. In the two episodes that have aired so far, we could watch Simone get convinced by her best friend Audrey to try online dating and she even had her first - not so very successful - date. And from the trailer it looks like there are many more dates to come.

Seeking Simone trailer
The highlights of Seeking Simone for me so far are definitely the Buffy shrine (So funny!) and the actual first date, because that somehow seemed very familiar to me. I only hope I won't feel the same about all of Simone's dates, unless they are really fun. You can watch the current and upcoming episodes here.

Check back for Part II of lesBian web series next week.

This article was first published on eurOut.