At eurOut we feel strongly about the importance of visibility of queer women, so we are very excited about this awesome video from the Netherlands.
"Ik ben het" (I am)...A woman who's into women
This video was made by organization
Femfusion
that has just launched their latest project entitled
Lesbian Flow
, a campaign designed to improve the image of lesbians and bisexual women in the Netherlands.
The initiative was born out of some
debates
the organisation had recently about the visibility of lesbians and bisexual women, that included topics like visibility, emancipation, safety and how to make the word "lesbian" less associated with sex.
The term Lesbian Flow came from the comparison of lesbians with water, in the way that water has the ability to adjust to its environment, but it always stays what it is, water. The campaign hopes to empower every queer woman to be visible in her own way, so together we can be strong and show the world who we are in our diversity.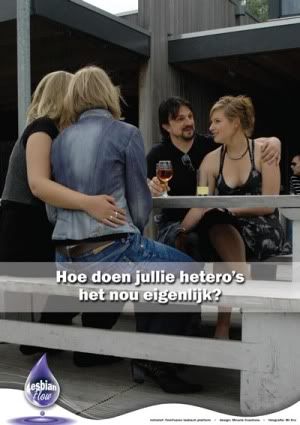 So how do you heterosexuals do it?
I love how this campaign emphasizes how every queer woman is different and we all express our sexual orientation in different ways, but in the end we are all the same and we are just like everyone else. It's an awesome and much need initiative, and I can only hope that more will follow.
"Lesbian Flow: the power of a woman who adjusts to her environment, yet always remains herself; streaming powerfully, showing movement and with the ability to make great things happen."
[-Translated fromLesbianflow.nl]
Over one hundred Dutch queer women contributed to the first part of the Lesbian Flow campaign, which consists of posters, flyers, cartoons, advertisements and even several YouTube videos.
Lesbians are very ordinary*
And it doesn't stop there. Femfusion wants to encourage every queer woman in the Netherlands to take part and come up with a way to contribute to the Lesbian Flow campaign. Find out what you can do
here
.
* The specific play on words used in these slogans loses something in translation.

Edit: This article was first published on eurOut.org.