Last week I went to see K's Choice in concert in the Vredenburg, in Utrecht, the Netherlands. It had been 14 years since I'd first seen them live and they were just as great as then, if not better.
The first time I saw a performance by K's Choice was at the Pinkpop Festival back in 1996. I remember being quite impressed by them and I bought their album Paradise in Me shortly after. Over the years that followed I saw them a few more times at festivals, and I always really enjoyed their shows.
I guess you could say I am a fan, so I was really excited to hear Sarah Bettens and her brother Geert had revived K's Choice, were releasing a new album and were going on tour again.
The concert I went to was part of K's Choice's Echo Mountain tour through Europe (for a complete lists of dates and venues, click here), and one of only two dates in the Netherlands. Echo Mountain is the name of their latest album, which I love. Why? Because it's just really good.
If you enjoyed K's Choice's previous albums, especially Cocoon Crash, you are going to love Echo Mountain. My favourite song of the album is their first single Come live the life (and not just because of the cute video).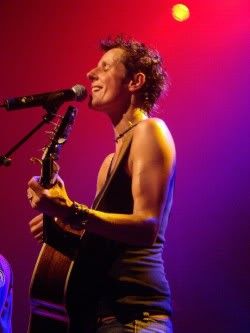 I went to see the concert together with my girlfriend. We weren't the only ones with that idea, as the area we were sitting was filled with a number of other cute lesbian couples. The majority of the concert goers though, seemed to be people in their late twenties to late thirties, who had probably also watched K's Choice live the first time around.
Besides the audience, including myself, being a little older than the first time I saw K's Choice live, they were also a little more quiet and controlled.
I saw some movement and a little dancing in front of the stage, but this was nothing compared to the crazy jumping up and down and crowd surfing of the late nineties. Then again, this could also have been due to the difference between a summer music festival and a concert hall.
K's Choice played the majority of the songs from Echo Mountain, but they also left plenty of room for their previous hits like Believe, Everything for free, and of course Not an addict. In addition, they played a few of Sarah Bettens' songs, including one of my favourites Come over here.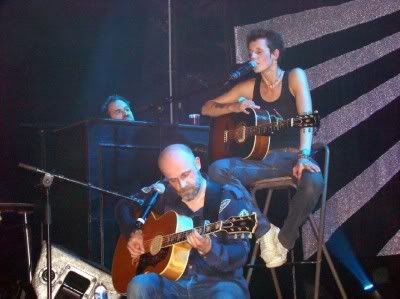 Unlike some artists who don't really seem to care much about the performance they are giving, K's Choice really seemed to be enjoying themselves. They were enthusiastic, energetic (I got tired just watching Sarah jumping up and down the stage!) and sounded just great. We were treated to not one, but two encores, including a brilliant acoustic version of God in my bed.
All in all it was a really good concert and a great night out. If you have the chance to go see them live near where you live, I definitely recommend it. If you can't, at least get their new Echo Mountain album from iTunes, I promise you won't regret it.
---
Photo credit: All photos are from the K's Choice Facebook page.
This post was first published on eurout.