Episode 4 of Skins focused on the Fitch family and saw Emily and Naomi mess up their relationship some more.
Previously on Skins: Emily moved in with Naomi and then she found out Naomi had been cheating on her with Sophia, who ended up committing suicide.
This is Katie's episode, which means we see a lot of drama, as well as just what is wrong with the Fitch family. Unlike the previous episodes, the storyline this time was so far from being plausible, I seriously wondered who they let write this episode.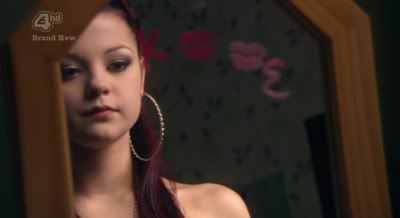 Katie F-ing Fitch
It starts of with Katie finding out she has hit early menopause and will never have any children. How many 17 year olds do you know that go into menopause? Well, apparently they do on Skins and it sets the tone for the rest of the storyline.
Some more Katie drama follows that we don't really care about. The next day there's trouble at the Fitch house, as dad has forgotten to mention to the rest of the family that they are seriously in debt and their house will get repossessed.
It gets to the point where guys show up to collect their valuables and the family can be seen running off with their stuff. This scene wasn't very believable or funny, so I'm not sure what the writers were thinking.
Now that the Fitch family is homeless they do not know where to go. Katie comes up with a brilliant solution: Move in with Naomi and Emily. There's so much wrong with this plotline, I do not know where to start.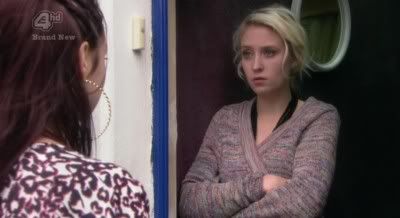 Katie and Naomi
Katie shows up at Naomi's, asking her if she and her entire family can move in. Obviously, Naomi doesn't think that's a great idea, but finally gives in. She's not the only one not happy about the idea. Mother Fitch doesn't want anything to do with Naomi, Emily and their relationship, so the last thing she wants is live in their house.
When Emily comes home she's less than pleased about the situation too. She makes a scene, telling her family she and Naomi are having a barbeque and then starts kissing Naomi in front of them, who of course isn't at all happy about it, as things still aren't right between the two of them.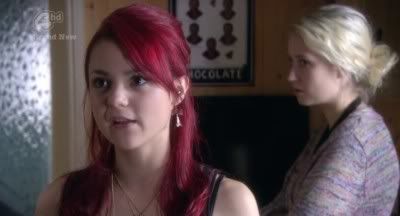 Emily and Naomi
The barbeque is the typical Skins get together, where everyone is drunk, on drugs or both and no one really seems to get on or have a good time. Emily is off her head on pills and pretending to have a blast. As if that isn't bad enough, she decides it's a great idea to make out with one of the girls at the BBQ in front of Naomi.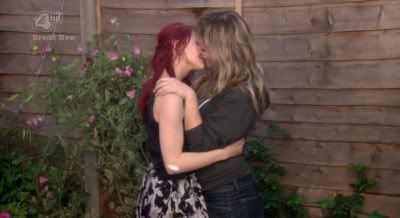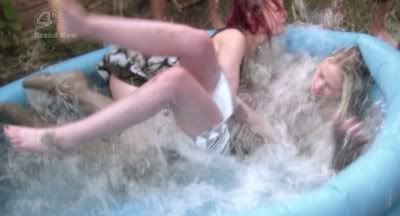 Emily on drugs
As if that hasn't pissed of Naomi enough, she then drags her with her into the kiddie pool. Emily is still laughing, while everyone else is upset (Naomi, mother Fitch) or surprised/indifferent (the rest of the Skins gang).
Later on we see Emily lying on her bed crying, while Katie comes in and tries to comfort her.
Katie and Emily
We don't get to see if Emily and Naomi resolve their differences or if they might break up, but at the end of the episode it at least looks like the Fitch family will be alright.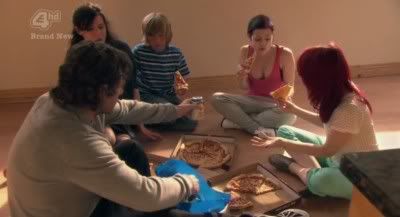 the Fitch family
Next time: Episode 5 is all about Effy and Freddie, meaning the preview was rather boring. Or maybe that's just me.
This post was first published on eurout.